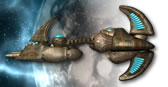 Several weapon upgrades including spread-fire, rear-shot and additional upgradable (cannon and rocket) turrets.
A number of special weapons including homing missiles, lasers, airstrikes etc.
Lots of enemy types differing not only by appearance but also by behavior, weaponry and the way they influence other characters.
Unique levels with different enemy tactics and powerful bosses at the end of each level (and intermediate ones).
Ground targets - plasma cannons, rocket turrets, asteroid plants etc.
Player ship easily controlled by keyboard or mouse.
Original space-age soundtrack.
Player-friendly interface to change game options, store player progress data and more.
Flexible scoring system with a detailed Top Players List.
Ability to post your score to Astrobatics Worldwide Hall of Fame.
Remember - this list may be the subject to change. Just proceed to Feedback page, choose "Astrobatics" in Product Name field and tell us anything you have to tell about any idea you find necessary to implement.

Start playing!

Why wait when you can play it right now for FREE? Download Astrobatics trial by clicking this link and see for yourself what it takes to survive.