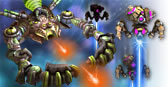 Mind-blowing 3D graphics combined with gorgeous soundtrack.
Up-to-date adaptation of classic Invaders arcade gameplay elements.
Lots of cyborg modifications with different weaponry and battle tactics.
A variety of extra-weapons and special abilities to discover.
Unique hard-to-defeat boss ships on 11 game stages.
Smooth game controls - you may use mouse, joystick or keyboard.
Easy-to-use interface helps you fine-tune the game and stores game progress for all players.
Show your achievements to the whole world in the Atomaders 2 Worldwide Hall of Fame.

Do you want anything added to game's features? Or may be something modified? Share your thoughts - open Feedback form, select Atomaders 2 in "Product name" field and tell us how we can improve the game for you to enjoy it even more.

No time to wait!

Every second you hesitate gives invaders an extra chance of success. Act now - download free Atomaders 2 trial before it's too late!