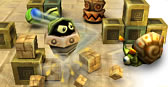 Dazzling 3D graphics and visual effects, realistic physics and beautiful music - it won't leave you untouched.
6 completely different epochs to explore - ancient Egypt, Antiquity, Maya, Asia, Middle Ages and Wild West.
Friendly machines, lots of helpful power-ups, loads of fun for both beginner and arcade maniac.
Control in a way you prefer - using mouse, joystick or keyboard.
Player-friendly interface stores your game progress.
Boom Voyage Worldwide Halls of Fame where you can post your score from within the game.

We at KraiSoft Entertainment think Boom Voyage is great. But what do YOU think? Let us know - open Feedback form, select Boom Voyage in "Product name" field and tell us anything you have to tell about Boom Voyage and how can we improve the game for you to like it even more.

Download Boom Voyage

Get your free Boom Voyage trial and your magnificent journey will begin in just a minute!