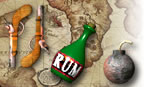 Nice and attractive views, all along your journey - tropical islands and icy fiords, sea birds and merchant ships.
Over 90,000 recognized words - whether you're making the word "bed" or "absorbability", you'll receive your points.
Bonus letters and lots of bonus items to help you achieve your goal.
Three game modes to test your skills: make longest words in Strategy mode, compete with time in Arcade mode, put your mind on making quest words in Quest mode.
Beautiful music to support you in your adventure.
Player-friendly interface to change game options, store game progress for each player and more.
Detailed Top Players List for all game modes.
Think we missed a feature in ABC Island? Found a word it didn't recognize? Give us a note by visiting Feedback page, choosing "ABC Island" in Product Name field and writing us about anything we might implement to make the game better.

Start playing!

Why wait when you can play it right now for FREE? Download After The End demo by clicking this link and see for yourself what it takes to survive.