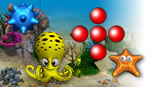 Beautiful underwater environment with brightly colored fish and turtles, beautiful plants and corals and realistic lighting.
Funny crab character supports you while you are completing levels.
Chargeable recoloring buttons and lots of funny power-ups such as Diver or Starfish to enrich your playing experience.
Three game modes: Strategy to test your mind, Arcade to compete with time, Classic for line-making marathon lovers.
Beautiful music to make your adventure more enjoyable.
Player-friendly interface to change game options, store game progress for each player and more.
Detailed Top Players List for all game modes.
Have an idea on how to make Aquacade even better? Just proceed to Feedback page, select Aquacade in "Product Name" field and share your thoughts with us.

Get the game!

Give Aquacade a try - Download free game demo and let your submarine adventure begin!