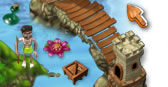 Beautiful and diverse seaside environments let you take a journey all over the world.
Lots of artifacts to discover, items to deliver and characters to interact with.
Three game modes: Quest to open your delivery career, Arcade for testing your combo-making skills, Puzzle to solve thrilling riddles.
Beautiful music to make your adventure more enjoyable.
Player-friendly interface to change game options, store game progress for each player and more.
Detailed Top Players List for all game modes.
Provide us with any feedback on Asea and we'll do our best to make the game better. Just proceed to Feedback page, select Asea in "Product Name" field and share your thoughts with us.

Free Asea download

Get the game and get aboard - Download free Asea demo and start your quest now!