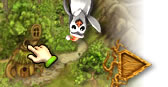 Your combo-making adventure path runs across beautiful glades, mysterious forest depths and witch castles.
Funny characters such as Ladybird and Pingu will show their skills of enriching your playing experience.
Three single-player game modes: start your magical Adventure, compete with time in Arcade mode, wrestle with entertaining Puzzles.
Duel mode - challenge your friend or computer opponent and win the day!
Beautiful music to guide you on your path.
Player-friendly interface to store game progress for each player, change game options and more.
Got an idea on how to make Fluff 'em Up even better? Share it with us and we'll do our best to improve the game. Just proceed to Feedback page and select Fluff 'em Up in "Product Name" field and tell us anything .

Download Fluff 'em Up

Get your free Fluff 'em Up demo - birdies are waiting anxiously for you to start the game!