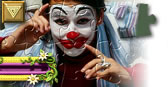 Create your own unique puzzles from your favorite photos and pictures with 16 cutout types and other appearance customization options.
Campaign mode where you explore 10 3D halls of mysterious castle while solving puzzles.
Send created puzzles to friends or upload to website with just two clicks - your recipient don't even have to have the game installed.
Easy-to-use puzzle solving interface with lots of helpful features such as Extra Board and Ghost Image.
Organize, solve and manage all your puzzles with convenient Puzzle Bank.
3D Gallery letting you create pretty halls showing your achievements.
Built-in Audio Player to make up a nice soundtrack for your game.
Don't hesitate to share your remarks on the game with us. We're always looking forward to your feedback. Just visit Feedback page, select Real Jigsaw Puzzle in "Product Name" field and send us your suggestions.

Start playing!

Get the game now and try it all for yourself - Download free Real jigsaw Puzzle demo!