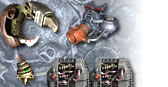 Various alien ship types differing from each other by appearance, behavior and weaponry.
Enemies build barriers, ram you with plasma bolts, intercept your power-ups, lay time-charges, work in formations - do everything to make you develop unique tactics for each level.
10 powerful extra-weapons ranging from Homing Missiles to Nuke.
Bonus levels to enrich your playing experience.
Boss levels with unique and hard-to-defeat creatures.
Player ship easily controlled by keyboard, mouse or joystick.
Player-friendly interface to change game options, store player progress data and more.
Flexible scoring system with a detailed Top Players List.
Ability to post your score to Alien Sky Worldwide Hall of Fame.

Remember: your opinion on every aspect of the game is of huge importance for us. Just proceed to Feedback page, choose "Alien Sky" in Product Name field and tell us anything you have to tell about how the game itself and its features should look and feel to be at its best.

Start playing!

Why wait when you can play it right now for FREE? Download Alien Sky trial by clicking this link and see for yourself what it takes to survive.