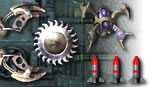 Various enemy cyborg types differing from each other by appearance and behavior.
9 powerful extra-weapons ranging from Side Swing to the mighty Crusher.
Motherships giving special abilities such as Shield and Defense Launcher.
Bonus levels to enrich your playing experience.
Boss levels with unique and hard-to-defeat creatures.
Player ship easily controlled by keyboard, mouse or joystick.
Player-friendly interface managing multiple players, campaigns and score with ease.
Flexible scoring system with a detailed Top Players List.
Additional campaigns available soon to download from our site - lots of extra levels for free.
Remember: we're working for YOU to feel delight. So YOUR opinion is at the head. Just proceed to Feedback page, choose "Atomaders" in Product Name field and tell us anything you have to tell about how the game itself and its features should look and feel to be at its best.